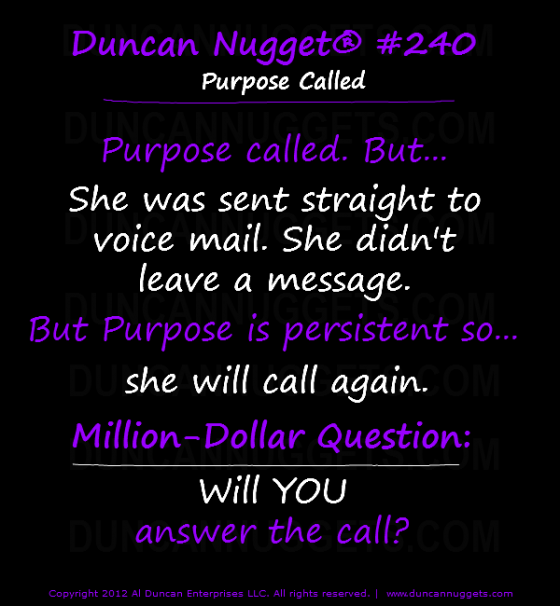 Purpose called. But…
She was sent straight to voice mail.
She didn't leave a message. 
But Purpose is persistent so…
she will call again.
Million-Dollar Question: 
Will YOU answer the call?
Here's a cool little story about blame. Maybe you've heard it before.
"This is the story of four people named Everybody, Somebody, Anybody, and Nobody. There was an important job to be done and Everybody was asked to do it. Anybody could have done it, but Nobody did it.

Somebody got angry about that, because it was Everybody's job. Everybody knew that Anybody could do it, but Nobody realized that Everybody wouldn't do it.

Consequently, it wound up that Nobody told Anybody, so Everybody blamed Somebody. And nothing got done."
Unfortunately, there was a time in my life when I blamed anything and anyone else, except for myself, for my lack of success. Not cool.
You cannot blame your way to success.
Personal responsibility is required. Blame is the arch enemy of personal responsibility. Therefore, blame is lame.
Million-Dollar Question:
Do you choose blame or personal responsibility?
_______________________
ACTIVITY AND DISCUSSION GUIDE FOR DUNCAN NUGGET® #330

Any great cook or professional chef knows that it's best to start cooking when the pot is hot.
That goes for ovens, pans, and grills, too. They should be the ideal temperature when you start cooking. This small, vital step is one of the secrets to cooking a great dish.
It works the same way with ideas or things you want to get done. The best time to build momentum is when you first think of an idea or start on a task.  The motivation is there. The excitement is there. The desire is there.
The pot is hot.
Take some immediate action steps that you can use to measure your progress. Wait too long and your pot gets cold.  The motivation is gone. The excitement is gone. The desire is gone. Not cool.
Million-Dollar Question:
Isn't it time for you to start
cooking up some more success?
I just finished talking to a young lady who spends too much time worrying. She's worried about getting off to a great start this semester. She's worried about getting into graduate school. She's worried about how she is going to do on her finals.
Really?!
She hasn't even been to a class yet!
She and I sat down for about 20 minutes and worked on getting the "worry weeds" out of her head. Here's a snapshot of what we talked about.
"Mr. Duncan, this is crazy! My biochemistry book costs $120!"
"Didn't you just spend $125 getting your hair done?"
"Yeah."
"So, it's cool to spend that kind of cash on the outside of your head, but not on the inside?"
"I never looked at it like that, but real talk, Mr. Duncan, I gotta get my hair done."
—conversation between Al Duncan and a college student
What's in your head (and heart) determines what's in your life.
Nice hats, expensive sunglasses, earrings, haircuts, and hairdos cost you thousands of dollars. A book on personal or professional development might cost you $25 and could help you make thousands, maybe millions, of dollars.
There's nothing wrong with taking care of the outside of your head, but take care of the inside too.
Million-Dollar Question:
Do you spend more time, money, and energy
on the outside or inside of your head?
Sometimes, when it seems like you're giving up…
You are really GETTING up and moving on.
Million-Dollar Question:
Is it time to walk away or try harder?
____________________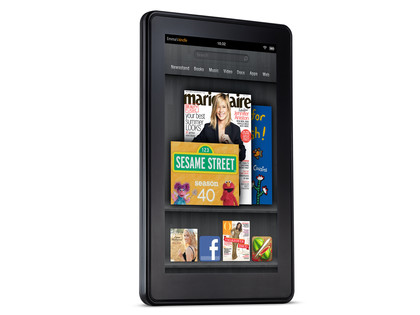 It's common knowledge that when people obsess over "things not being perfect" it can cause them to become frozen with the fear of failure. Still, many people still struggle with it. So, what can be done about this?
Whenever I'm struggling with whether or not to implement a plan or idea because "it's not perfect" I take a look at great leaders and entrepreneurs who launched services and products that weren't perfect. The one who has been coming to mind as of late is Jeff Bezos, founder of Amazon.
Hey! Remember to sign up.
An exciting new program fromAl Duncan Enterprises LLC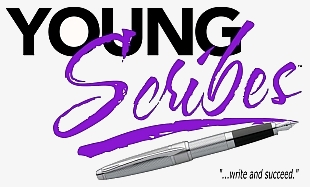 Latest News
Speaker for Your Event?
Contact
Fill out the form here or feel free to contact us directly at:
Al Duncan Enterprises LLC
4920 Flat Shoals Pkwy
Suite 102-219
Decatur, GA 30034
1-888-810-4302