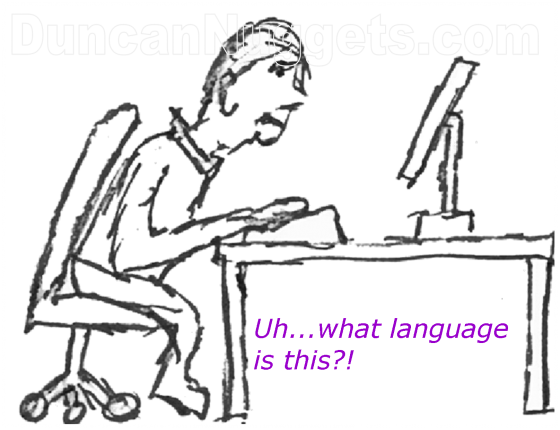 "Well… what happened?"  
"I told him if he wanted a job, send me an email and he sent me a text disguised as an email."  
"Nooo. Really? Man… that's messed up. I think he's doing pretty good in school."  
"For me that's even worse. He's in college! I mean really, Al… does he even know what punctuation or a complete sentence is?!"  
—irritated business owner talking to Al Duncan about a potential employee
---

Duncan Nugget® #359:
When you communicate, you shape a person's perception of who you are.
You shouldn't judge a book by it's cover, right?
Well, most of us do. I work hard not to, but it happens and when it does, I tend to feel guilty about it. It's a completely different story, however,  when it comes to the contents of a book or a person. I feel perfectly fine—no guilt whatsoever—about making an assessment based on the quality of the contents.
1. Your communication is not part of your cover, it's part of your contents.
Just like the employer judged the young guy in the conversation you just read, at school and in many professions, people will assess the quality of your contents based on your written communication.
2. Poor writing skills can cause people to overlook your other skills.
The young guy in the conversation has a lot of other great skills. I know because I've seen his resume, but after that email the business owner wasn't interested in looking at his resume. Think about that while you read the rest of these reasons.
3. Millions of workers and students lack adequate writing skills.
Written communication is one of the skills that employers, colleges, and universities find most lacking in the workforce.
While writing this article, I searched for proof—research and statistics—to verify that claim. So, I typed "employees lack…" in the search bar. I didn't even have to finish typing the phrase because Google instantly completed it with "…writing skills in the workplace."
4. Poorly written communication is costly to employers and employees.
In the Harvard Business School Publishing Guide To Better Business Writing, I read that businesses are spending over $3 billion annually to correct poor writing! According to another article, "Poor Writing Costs Taxpayers Millions," state governments spend $250 million a year on remedial writing instruction for employees.
Confusing emails, flawed reports, and poorly written presentations are a waste of time and money. These things could keep you from getting a promotion or get you fired. Not cool.
5. They might ask you for a writing sample.
Since effective written communication skills seem to be on the endangered species list, it's becoming more common for employers to ask potential employees for a writing sample. Even if you manage to get in the door with subpar writing ability, getting a promotion or a job in management is going to be a lot tougher.
Imagine that you are in the middle of an interview or performance review and they ask you for a writing sample. How would you feel about it?
6. Strong written communication skills can give you a competitive advantage.
Effective communication, oral and written, is a valuable commodity. Research shows that written communication consistently ranks among the soft skills most desired by employers, colleges, and graduate schools.
With effective writing, you can produce:
— Accurate reports that are clear and easy to understand.
— Persuasive sales copy, white papers, and press releases.
— Concise emails and memos that motivate readers to take action with little need for clarification.
The bottom line: If you have an in-demand skill that is lacking in the workforce, you have a competitive advantage.
Million Dollar Question:
Why do you want to improve your writing skills and how soon will you get started?
---

HEY! Check out the next article in this series: 7 Business Writing Tips For Students In The Workplace
DISCUSSION QUESTIONS
1. If you had to create a list of the top 5 skills for an employee to have, would writing make the list? If yes, where would it rank and why? If not, why wouldn't it be important to you as an employer?
2. Other than the reasons listed in the article you just read, what are 3 reasons writing is important for your success?
3. In your opinion, why do so many people lack effective written communication skills? How would you go about solving this problem? How would your solution help you right now?
---
Hey! Remember to Sign Up.
A List Of Soft Skills
Click here for a list of soft skills definitions, and behavioral indicators.
Latest News
Speaker for Your Event?

Contact Us
Fill out the form here or feel free to contact us directly at:
Al Duncan Enterprises LLC
4920 Flat Shoals Pkwy
Suite 102-219
Decatur, GA 30034
1-888-810-4302