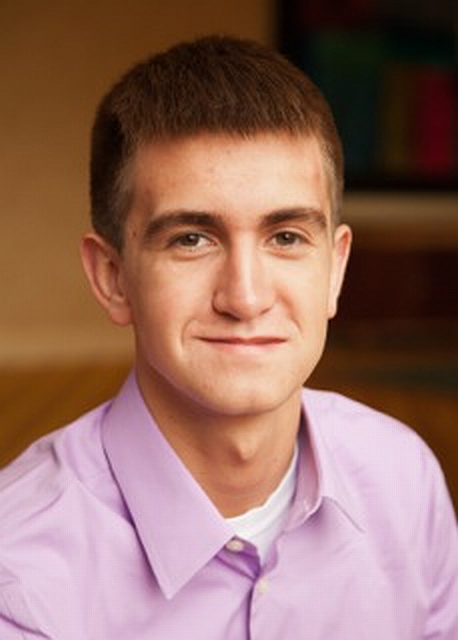 Taylor Sarman, a freshman at Oregon State University in Corvallis, Oregon, has had a passion for serving others since an early age. This passion has led him to pursue a degree in Political Science, which he hopes to use to improve the lives of those around him.
Taylor was extensively involved in Future Business Leaders of America (FBLA) in high school, where he served the association as National President. Since graduating high school, Taylor has been an active member of the Oregon FBLA Board of Trustees, and he continues to fulfill his passion of serving others with the March of Dimes as a member of the National Youth Council.
Recently, I met Taylor when I was the keynote speaker at the FBLA-PBL National Fall Leadership Conference. Awesome guy.
_________________
1. When you were the National President of FBLA, you were a leader leading a group of leaders. What were some of the harder lessons you had to learn?
I think that leading a group of leaders is one of the best circumstances one can find themselves leading in. The result is a group that is in constant growth and is always pushing one another to excel beyond the status quo. The biggest lesson that I learned while working along side other leaders in FBLA is the importance of uniting everyone through shared purposes and collectively tackling challenges. With a group of leaders, it is very easy to have individuals diverging on separate paths, but, the lesson other leaders have helped teach me, is that the focus of a leader is to bring groups together and help them unilaterally move forward.
2. Why would you recommend a young person join FBLA/PBL? What are some ways that FBLA/PBL could help a young person in his or her educational and business endeavors?
When I reflect back on the person that I am, there are few things that can compare to the impact that FBLA-PBL has had on my life and in shaping the person that I am today. FBLA was always far more than an organization I joined—instead it was a connection to a support system that helped me to realize my own potential in and outside of the classroom. FBLA was the place where I connected with life-long friends, found my passion for serving others, and where I realized that no dream was to big if you believed passionately in your ability to achieve it. Regardless of whether you want to be a teacher, doctor, lawyer, or CEO I would recommend that every young person take advantage of the endless opportunities FBLA has to offer because FBLA's true focus is shaping young leaders and preparing them for success in everything that they do.

3. Like most full-time students, you are quite busy and probably have very little time to spare. So, how do you make time to serve and why is it so important to you? How does serving on the March of Dimes National Youth Leadership Council help you achieve your goals regarding service?
Sometimes, in today's fast paced culture I think it is easy to forget how interconnected each of us, as human beings, truly are. Each of us is in the same pursuit of happiness and success and these are not ideals that we accomplish separately. These are values that are accomplished when we join together. The sole reason I serve is because I believe that each of our dreams and passions are intertwined and our individual success requires the collective success and happiness of our fellow man.
Serving such a phenomenal organization like the March of Dimes gives me the opportunity to truly commit myself to those ideas of interconnectedness and giving a voice to those who cannot advocate for themselves. From the smallest of babies to the oldest citizen of our society, we celebrate success and happiness together and as a result our service to each other comes easy.
4. You are a Political Science major. Do you keep a close eye on elections? What areas relating to young people do you think should be brought more to the forefront?
I received my first presidential campaign button in the fifth grade, during the 2004 presidential election, and ever since then I have been eagerly following every election, but this one [the 2012 Presidential Election] I have been following especially close because I think there are so many important issues facing young people and our country. The rising cost of higher education is a concerning issue for young people in the United States. In our society we place a high value on education, but with rising tuition costs it is becoming more and more difficult for young people to earn a degree. Thankfully this is an issue that is gaining significant attention, and is one that I believe American's will unite together to find a solution.
5. What has been the most valuable advice you have received? Where did it come from and what makes it so important?
The most valuable advice came for me during a time when I faced challenges and questioned my ability to be successful. In a small diner in Oregon, a leader I will always look up to told me that no one writes a book about somebody who has a great dream, but settles for something lesser. The central idea of the advice is that no one should settle for a "lesser" dream just because it seems more easily attained. Out of this advice I realized that the power of our fears will never be greater than the power that resides in our dreams and this is the message I always try to share with other student leaders.
That's definitely great advice. Thanks, Taylor!
You are welcome. And please do not hesitate to let me know if there is ever anything else I can contribute to!
__________
Hey! Are you a positive, high achieving young person? Would you like to be interviewed by me? Do you know any positive, high achieving young people I should interview?
I'm looking for outstanding young leaders, professionals and entrepreneurs to feature in my new Q&A interview series called The Young And Exceptional™. If you would like to be featured in this series please fill out the form located here. Be sure to include a short bio (less than 100 words) in your message.
---
Hey! Remember to Sign Up.
A List Of Soft Skills
Click here for a list of soft skills definitions, and behavioral indicators.
Latest News
Speaker for Your Event?

Contact Us
Fill out the form here or feel free to contact us directly at:
Al Duncan Enterprises LLC
4920 Flat Shoals Pkwy
Suite 102-219
Decatur, GA 30034
1-888-810-4302