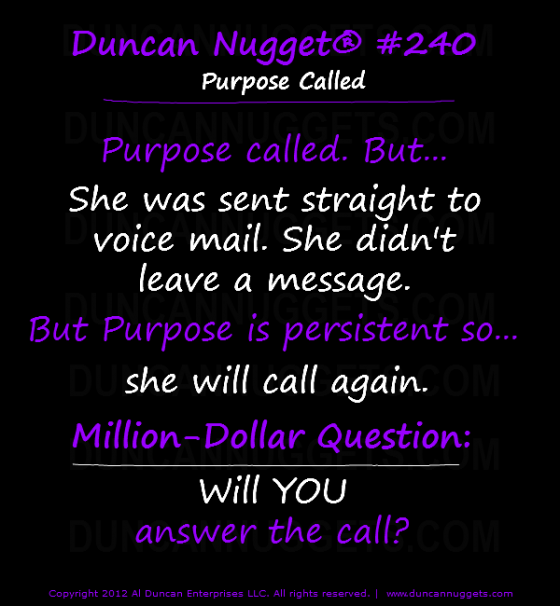 Purpose called. But…
She was sent straight to voice mail.
She didn't leave a message. 
But Purpose is persistent so…
she will call again.
Million-Dollar Question: 
Will YOU answer the call?
High Definition (HD) videos and images are clearer, sharper, and more vivid than normal videos and images so, they're worth a premium.
The same thing goes for high-definition people—exceptional individuals who have an accurate internal definition of who they are, what they bring to the table, where they are going, and how they plan to get there. This helps them to come across as clearer, sharper, and more vivid the than competition. They're worth a premium because they present themselves in high definition.
If you are coming across fuzzy, start with your self-definition. Who are you? What's most important to you in life? What do you want to do? Once you have clear answers to those questions, create a plan and learn how to articulate your plan. Then you'll be able to come across in HD.
Million-Dollar Question:
Are you determined to take the necessary steps
to present yourself in high-definition?
_____________________
I just finished talking to a young lady who spends too much time worrying. She's worried about getting off to a great start this semester. She's worried about getting into graduate school. She's worried about how she is going to do on her finals.
Really?!
She hasn't even been to a class yet!
She and I sat down for about 20 minutes and worked on getting the "worry weeds" out of her head. Here's a snapshot of what we talked about.
*Yawn*
After interviewing a dozen students for a job in the restaurant that I was managing, that was all I could do—yawn. They all gave similar answers:
"I'm a hard worker…
"I'm a fast learner…"
Boring.
Many professionals, entrepreneurs, and students are pushing the same old stuff. Where's the differentiation? Put some salt and pepper on it. Season it up.
For example, one guy asked me, "What's the hardest thing to make on your menu."
"Well…there's this souffle…"
He interrupted, "If I go back there and make it, will you hire me?"
"Yes."
He did. I hired him.
Here's another example:
When Vitamin Water first hit the market, they didn't put it on the aisle with juice or soft drinks. It was on the aisle with water. It was the only colorful drink on the aisle. Brilliant. That's differentiation.
Million-Dollar Question:
In today's competitive market,
what's your point of differentiation?
_____________
This is an article I wrote eight years ago. Someone mentioned it on Twitter recently and since it can still be helpful today, I'm re-posting the link to it:
Q: What are the benefits of being an individual, as opposed to someone who just wants to be like everyone else?
A: Asserting your individuality will increase your sense of significance, as well as your perceived value. There's your answer in one neat little sentence. I could leave it at that but…that wouldn't be much fun, would it?
Read the rest here: The Benefits Of Individuality
Is it just me or have you ever noticed that once somebody thinks something negative about a person or a group of people s/he can find all the evidence in the world to prove it, but none to refute it?
And once somebody thinks you can't do or be something, s/he can find all the evidence in the world to prove that it's impossible, but none to prove that it is possible.
Why?
Because genuine open-mindedness is a rare thing.
It's common, however, for people to completely ignore (sometimes unintentionally) anything that challenges their beliefs. Even if it's factual, people have a hard time dealing with information that contradicts what they think. Most people only seek information that validates what they want to think and believe.
Genuine open-mindedness is a master ability. It's one of the keys to self-development and embracing diversity.
Million-Dollar Question:
How open-minded are you?
Three psychologists conducted an experiment. They gave hundreds of customers at a bar a choice between a free glass of beer from pitcher "A" (regular beer) or pitcher "B" (laced with a small amount of balsamic vinegar.) People sampled both beers before making their choice.
When people knew nothing about the vinegar most people chose pitcher "B".
When told about the vinegar ahead of time, people cringed in disgust when they tasted the vinegar-beer. When told about the vinegar-beer after they drank it, not only did the majority still like it, they asked for the recipe!
This effect happens to all of us.
If you are convinced ahead of time that something is going to be bad or good, chances are it will be. Not because of the experience, it's because of the amazing effects of your expectations.
Million-Dollar Question:
How are your expectations
impacting the outcomes in your life?
_________________________
DISCUSSION QUESTIONS
Hey! Remember to sign up.
An exciting new program fromAl Duncan Enterprises LLC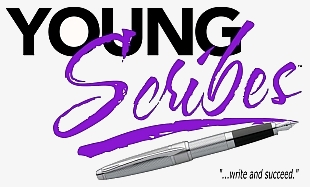 Latest News
Speaker for Your Event?
Contact
Fill out the form here or feel free to contact us directly at:
Al Duncan Enterprises LLC
4920 Flat Shoals Pkwy
Suite 102-219
Decatur, GA 30034
1-888-810-4302