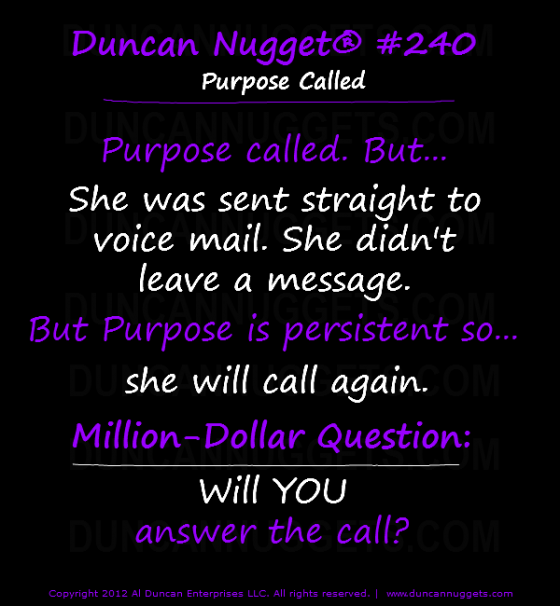 Purpose called. But…
She was sent straight to voice mail.
She didn't leave a message. 
But Purpose is persistent so…
she will call again.
Million-Dollar Question: 
Will YOU answer the call?
Here's a cool little story about blame. Maybe you've heard it before.
"This is the story of four people named Everybody, Somebody, Anybody, and Nobody. There was an important job to be done and Everybody was asked to do it. Anybody could have done it, but Nobody did it.

Somebody got angry about that, because it was Everybody's job. Everybody knew that Anybody could do it, but Nobody realized that Everybody wouldn't do it.

Consequently, it wound up that Nobody told Anybody, so Everybody blamed Somebody. And nothing got done."
Unfortunately, there was a time in my life when I blamed anything and anyone else, except for myself, for my lack of success. Not cool.
You cannot blame your way to success.
Personal responsibility is required. Blame is the arch enemy of personal responsibility. Therefore, blame is lame.
Million-Dollar Question:
Do you choose blame or personal responsibility?
_______________________
ACTIVITY AND DISCUSSION GUIDE FOR DUNCAN NUGGET® #330

A professor once asked me, "Al, in your opinion, why do students cheat?"
"Because they have an ineffective strategy for dealing with failure."

Think about that. When people don't know how to deal with failure they'll do anything to avoid it.
Nobody wants to fail, but exceptional people aren't afraid to fail. They develop a strategy.
Here's mine:
1. Forgive yourself. The Duncan Nugget® that I probably quote the most is #21: Failure is only permanent if you quit. I might get sad. I might get mad. But I refuse to beat myself up about it.
2. Master the lesson. Analyze what went wrong and don't do it again. Duh!
3. Work hard to get better. Learn and practice what you learned. If you don't know how to improve then ask someone who knows what s/he is talking about.
That's my strategy.
Million Dollar Question: 
What is your strategy for dealing with failure?
_______________________
ACTION STEPS AND DISCUSSION QUESTIONS
High Definition (HD) videos and images are clearer, sharper, and more vivid than normal videos and images so, they're worth a premium.
The same thing goes for high-definition people—exceptional individuals who have an accurate internal definition of who they are, what they bring to the table, where they are going, and how they plan to get there. This helps them to come across as clearer, sharper, and more vivid the than competition. They're worth a premium because they present themselves in high definition.
If you are coming across fuzzy, start with your self-definition. Who are you? What's most important to you in life? What do you want to do? Once you have clear answers to those questions, create a plan and learn how to articulate your plan. Then you'll be able to come across in HD.
Million-Dollar Question:
Are you determined to take the necessary steps
to present yourself in high-definition?
_____________________
Any great cook or professional chef knows that it's best to start cooking when the pot is hot.
That goes for ovens, pans, and grills, too. They should be the ideal temperature when you start cooking. This small, vital step is one of the secrets to cooking a great dish.
It works the same way with ideas or things you want to get done. The best time to build momentum is when you first think of an idea or start on a task.  The motivation is there. The excitement is there. The desire is there.
The pot is hot.
Take some immediate action steps that you can use to measure your progress. Wait too long and your pot gets cold.  The motivation is gone. The excitement is gone. The desire is gone. Not cool.
Million-Dollar Question:
Isn't it time for you to start
cooking up some more success?
"Mr. Duncan, this is crazy! My biochemistry book costs $120!"
"Didn't you just spend $125 getting your hair done?"
"Yeah."
"So, it's cool to spend that kind of cash on the outside of your head, but not on the inside?"
"I never looked at it like that, but real talk, Mr. Duncan, I gotta get my hair done."
—conversation between Al Duncan and a college student
What's in your head (and heart) determines what's in your life.
Nice hats, expensive sunglasses, earrings, haircuts, and hairdos cost you thousands of dollars. A book on personal or professional development might cost you $25 and could help you make thousands, maybe millions, of dollars.
There's nothing wrong with taking care of the outside of your head, but take care of the inside too.
Million-Dollar Question:
Do you spend more time, money, and energy
on the outside or inside of your head?
Sometimes, when it seems like you're giving up…
You are really GETTING up and moving on.
Million-Dollar Question:
Is it time to walk away or try harder?
____________________
Hey! Remember to sign up.
An exciting new program fromAl Duncan Enterprises LLC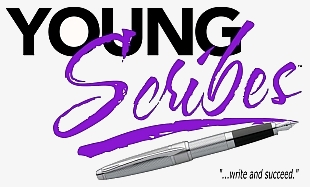 Latest News
Speaker for Your Event?
Contact
Fill out the form here or feel free to contact us directly at:
Al Duncan Enterprises LLC
4920 Flat Shoals Pkwy
Suite 102-219
Decatur, GA 30034
1-888-810-4302