Iman Victoria Wilson is the 2012 national winner of the Blacks In Government Information Superhighway Student Competition. An honors student in the 11th grade at Monroe Comprehensive High School, Iman has received the Girl of the Year Award from Girl's Inc. She epitomizes the organization's mantra: "Strong, Smart and Bold." Iman is also the Sunday School secretary for Institutional First Baptist Church in Albany, GA.
Iman enjoys reading, meeting new people, listening to music, and spending time with her family. Her positive and polite attitude is magnetic. She aspires to attend Spelman College. Her post graduate plans include attending Harvard School of Law and eventually becoming a successful criminal defense attorney. Let's take a quick peek inside the mind of this young leader on the rise.
________________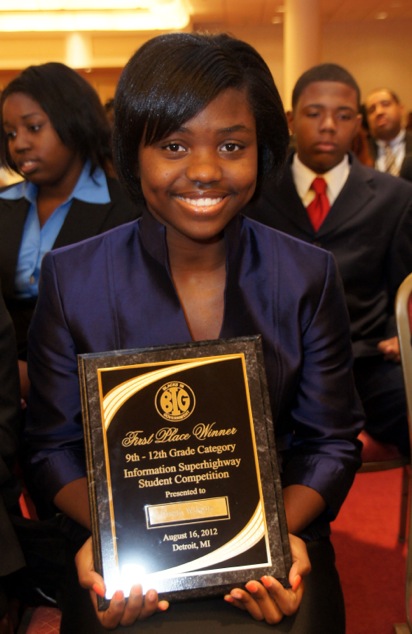 Iman, congratulations on winning the Information Superhighway Student Competition. What made you decide to enter the contest? Was it your mom? Ha! Also, exactly what did you have to do?
Actually, it was my parents idea to enter the contest, but I'm definitely glad that I did. My job was to design an 8 page website on the given topic which was "Building Proper Relationships Through Online Social Networking: The Do's & Don'ts For Your Friends & Followers." I also had to create a 4-6 minute oration to accompany my website.
Your winning topic is a topic that can help a lot students and professionals manage their personal brands. How many do's and don'ts are there and what are the most important ones?
The do's and don'ts are endless since social networks make changes and improvements on almost a daily basis. Most importantly you should always remember to be safe when chatting online and be mindful of your postings and pictures. I know individuals that have posted things they've regretted and now worry if it will hinder their ability to get into college or get a job later in life.
Do you know how many students were competing in the competition? And how many levels were there?
At the local level 10 students competed. At the regional level 15 competed and at the national level 15 competed.
And you beat'em all. Awesome! What's the deal with the website? Is it up? Can people use it?
The website hasn't been published. It's been saved to a CD-ROM.
Well, hopefully they'll publish it for it you. Let me know when they do. When you did your oration, how many people did you have to present to? How did you handle the pressure?
I presented my oration in a crowd of a little over a hundred people. I know for sure that I called on God twice as many the times as the [number of] people in the room, but I kept reminding myself to remain focused and relaxed.
What was the most challenging thing about the contest for you?
The most challenging thing about this contest was giving up eight of my Saturday mornings to design my webpage. When you're there you're thinking about all of the other things you could be doing like
sleeping in, chatting with friends, etc. But the end result was worth the sacrifice.
You describe yourself as "Strong, Smart, and Bold." Please give me an example that demonstrates that. Also, how will those characteristics help you to excel as a leader?
I believe that I am strong because with each of life's challenges or even failures I use them as motivation to stay the course and do better with the next chance or opportunity given. I am smart because I am always seeking and in search of different ways to increase my knowledge. Reading, observing and analyzing experiences and situations have become habitual for me!
I am bold because I dare to be me. I learned early on that most leaders never conform to the crowd. They develop their own style and chart their own path.
True! What is the best piece of advice you have ever gotten and where did it come from?
The best piece of advice I received came from a Marilyn Monroe quote that I read: "I believe that everything happens for a reason. People change so you can learn to let go. Things go wrong so you can appreciate them when they're right. You believe lies so you eventually learn to trust no one but yourself. And sometimes good things fall apart so better things can fall together."
Iman, thanks for sharing! I wish you continued success.
Thanks!
__________
Hey! Are you a positive, high achieving young person? Would you like to be interviewed by me? Do you know any positive, high achieving young people I should interview?
I'm looking for outstanding young leaders, professionals and entrepreneurs to feature in my new Q&A interview series called The Young And Exceptional™. If you would like to be featured in this series please fill out the form located here. Be sure to include a short bio (100 words or less) in your message.
---
Hey! Remember to Sign Up.
A List Of Soft Skills
Click here for a list of soft skills definitions, and behavioral indicators.
Latest News
Speaker for Your Event?

Contact Us
Fill out the form here or feel free to contact us directly at:
Al Duncan Enterprises LLC
4920 Flat Shoals Pkwy
Suite 102-219
Decatur, GA 30034
1-888-810-4302