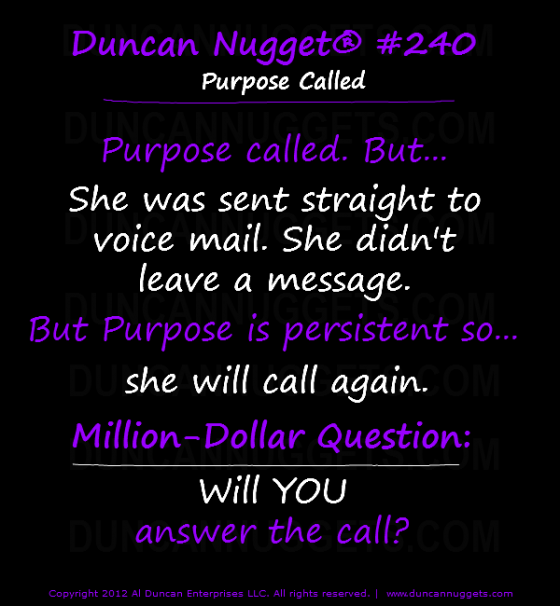 Purpose called. But…
She was sent straight to voice mail.
She didn't leave a message. 
But Purpose is persistent so…
she will call again.
Million-Dollar Question: 
Will YOU answer the call?
_________________________
DISCUSSION QUESTIONS
Helping someone choose a major, career, or find his/her purpose can be challenging. The following discussion questions should help to get him/her thinking about his/her passions, skills, strengths, and weaknesses. These questions work well for a group discussion, but it is often beneficial to use them as an individual research project.
Remember, finding your purpose normally requires a great deal of patience, diligence, questioning, experimenting, and exploring that includes failure and success. The rewards are awesome.
1. Describe an awesome day for you. What would you be doing? Where would you go? Can you have a career doing any of those things?
2. Is there something that you do better than most people? How can you become even better at it? Is it possible to build a career based on it?
3. Are people always asking for your help or advice? If yes, about what? Can you have a career giving advice or helping people do this type thing?
4. What do you love to learn about? What types of careers are based on this subject?
5. If you had to teach a class on something, what would it be? Why?
6. What do you do that people consistently compliment you on? Is it possible to have a career based on this?
7. What would you do if you knew you were guaranteed to succeed? Is it possible for you to have a career based on this?
---
Hey! Remember to Sign Up.
A List Of Soft Skills
Click here for a list of soft skills definitions, and behavioral indicators.
Latest News
Speaker for Your Event?

Contact Us
Fill out the form here or feel free to contact us directly at:
Al Duncan Enterprises LLC
4920 Flat Shoals Pkwy
Suite 102-219
Decatur, GA 30034
1-888-810-4302