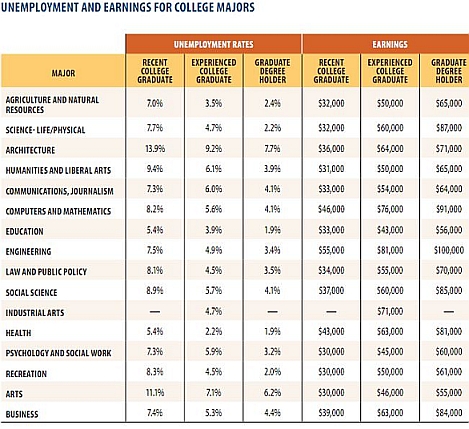 "Not all college degrees are created equal."
Georgetown University's Center on Education and the Workforce has analyzed government data from 2009 and 2010 to find out which majors are the most likely to land you a job right out of college.
Of course, you can't argue with the numbers, but I still believe that students should avoid choosing a major solely based on "getting a job." Too many people hate what they do.
If you are looking for fulfillment, choosing the ideal major should be based on the right combination of desired lifestyle, strengths, and passion.
You can find the complete publication here.
_____________
I originally found out about this study while reading: Life Inc. – Good Graph Friday: The majors with the best job prospects
---
Hey! Remember to Sign Up.
A List Of Soft Skills
Click here for a list of soft skills definitions, and behavioral indicators.
Latest News
Speaker for Your Event?

Contact Us
Fill out the form here or feel free to contact us directly at:
Al Duncan Enterprises LLC
4920 Flat Shoals Pkwy
Suite 102-219
Decatur, GA 30034
1-888-810-4302