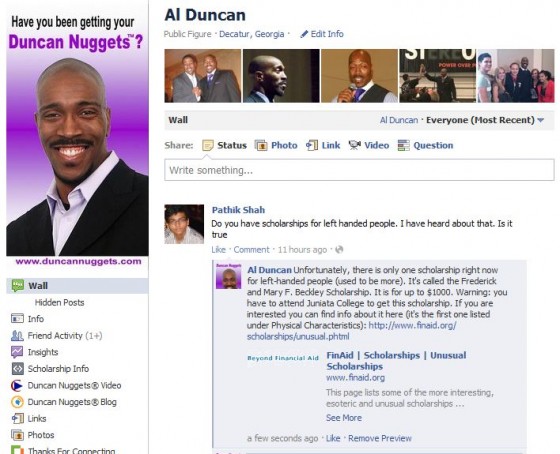 Q: Do you have scholarships for left handed people. I have heard about that. Is it true?
A: Unfortunately, there is only one scholarship right now for left-handed people (used to be more). It's called the Frederick and Mary F. Beckley Scholarship. It is for up to $1000. Warning: you have to attend Juniata College to get this scholarship. If you are interested you can find info about it here (it's the first one listed under Physical Characteristics): http://www.finaid.org/scholarships/unusual.phtml
______________________
Got a question? Use this form to ask Al.
---
Hey! Remember to Sign Up.
A List Of Soft Skills
Click here for a list of soft skills definitions, and behavioral indicators.
Latest News
Speaker for Your Event?

Contact Us
Fill out the form here or feel free to contact us directly at:
Al Duncan Enterprises LLC
4920 Flat Shoals Pkwy
Suite 102-219
Decatur, GA 30034
1-888-810-4302